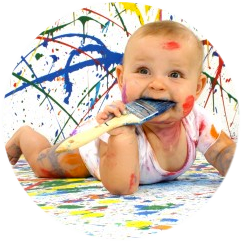 Eins Zwei Drei – Kinder in Gracia…
is a new German Pre-Kindergarten in Barcelona. Our kindergarten teachers speak German with babies and children throughout the whole day. We take care of children from the age of 8 months to 3 years. Our group consists of a maximum of 15 children, who are taken care of by our 3 educators.
Our daily routine is based on the concept of the Hungarian paediatrician Emmi Pikler. We want to give each child the time to get used to every situation by explaining and commenting it in German, thus ensuring that the children absorb the language through the sounds, melody and rhythm. Imagine it as a linguistic immersion. First the children splash around before they learn to swim.
Apart from the language aspect our goals are to …
…take into consideration the individual needs and development of each child
…encourage the independence and self-motivated activity of each child
…impart values like empathy and friendship
…give plenty of room and time for physical and creative activity
…support free and guided play
…to promote an awareness for a healthy and balanced diet
…establish a regular dialogue with parents on the development of their children
Familiarization
We want your child to get used to the new environment in a gentle way. The so called "Berliner Modell" serves as a basis for the familiarization process which requires the presence of one of the parents during the first days. The length is determined by the individual needs of each child.