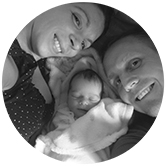 The nursery was opened in May 2015. Here is a little explanation by Wolfgang Harbauer, founder and previous owner:
"The idea of Eins Zwei Drei – Children in Gracia was born shortly before the arrival of our daughter Emily in the summer of 2014. We – Patricia (from Málaga in Andalucia) and Wolfgang (from a village in northern Bavaria) – pondered on how we could give our daughter one of the most valuable gifts: to grow up bilingual.
A clear idea and education in German
So off we went looking for a German kindergarten in Barcelona. Unfortunately the number of places in German­speaking kindergartens in Barcelona are extremely limited. Our focus lay on finding a nursery school for tiny tots with a clearly­defined pedagogic concept and competent native speakers.
Happy and secure surroundings in the heart of Barcelona
Together with our German nursery school specialists we have transformed the idea of Eins Zwei Drei­ Kinder in Gracia into reality. With it we want to offer our children a happy and secure environment, in which they can grow and develop. We want you, as parents, to know that your offspring are well taken care of. Thanks to small groups – each teacher has a maximum of 5 children – we ensure intensive and individual attention. More on our pedagogic concept here.
Our philosophy as an enterprise
Eins Zwei Drei – Kinder in Gracia is a private iniative which is financed solely by the fees paid by the parents. Although a private institution we are not (considering how far the world has got through profit­maximization) a profit­orientated enterprise. We bank on transparent, sound financing and potential profits will flow directly into our nursery school and in supplementary training and expansion of our staff.
In all our activities and dealings with other enterprises we attach great importance to local concepts
and ecological aspects.
Interested? Want to know more? Then just drop in and/or contact us via: info@eins­zwei­drei.es"
Patricia und Wolfgang, April 2014